Total or Partial Knee Replacement
Once all non-operative treatment options such as activity modification, weight loss, physiotherapy, pain killers, and injection therapy have been exhausted and you are suitable for surgical intervention, I will offer you a either a total knee replacement or partial knee replacement depending on your symptoms and X ray appearances. These are a very successful operations that are routinely performed in patients with knee osteoarthritis.
The benefits of having knee replacement surgery are:
Reduced pain
Reduced stiffness
Increased mobility
Improved quality of life
The replacement knee joint is made up of a combination of special metals and plastic.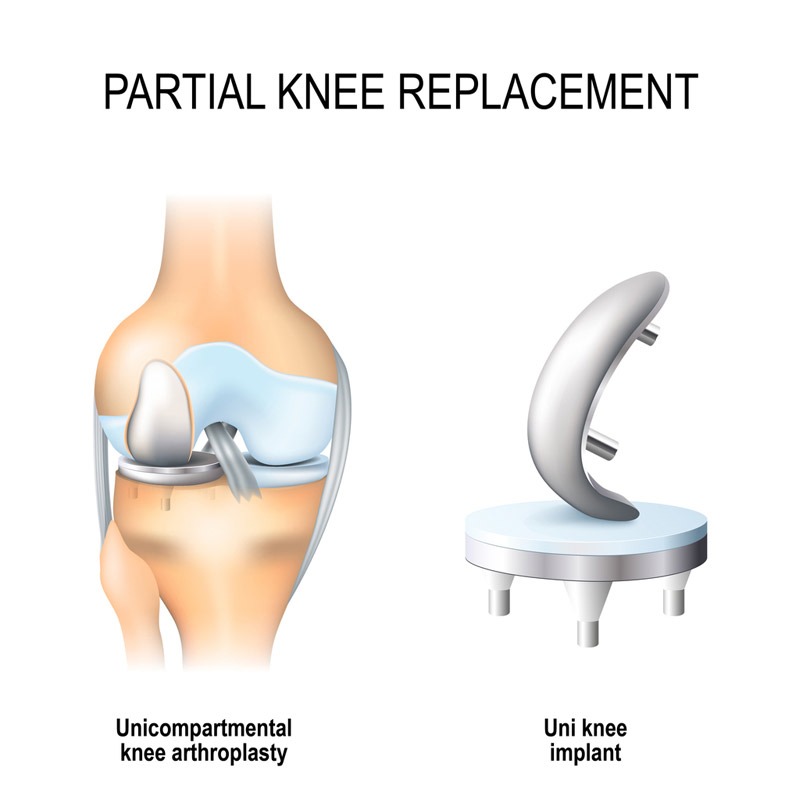 See below for some before and after X-rays of a knee replacement surgery I have performed to treat Osteoarthritis. Drag the sliders to switch between the before and after images.
If you think you may benefit from knee joint replacement surgery, please don't hesitate to Enquire Now so that we can arrange a consultation.
Highly Experienced
I am an experienced Consultant Orthopaedic Surgeon with 22 years of experience working as an NHS doctor and as a consultant since 2018.
Qualified Surgeon
I attained my higher surgical training in Trauma and Orthopaedic Surgery and have also done two prestigious fellowships in lower limb arthroplasty.
Hi-Tech Equipment
All my operations are carried out at first class facilities with hi-tech equipment so you can rest assured you are receiving the highest quality treatment.
Ongoing Patient Care
All my patients receive the best care possible, including consultations with myself before and after the operation and care from our healthcare team on the day.
I am 7 weeks and 6 days post op, for a complicated left hip replacement. Essentially I had no socket for my left hip. Mr Magra virtually reconstructed my whole upper leg. The chronic pain beforehand meant I was unable to walk much more than 100m without intense pain. Post op I have completed in excess of 2 miles with 2 crutches and 1 mile with a single crutch and I am now starting tingling confidence to lose the crutches altogether. I honestly cannot tell you how much of a difference Mr Magra and his team have made to my life.
Mr Magra was very thorough and informative regarding his diagnosis and plan. A full hip replacement was decided upon due to my general physical fitness. At the follow up appointment a couple of months later, he was very pleasant and his examination and advice was very thorough and I left the appointment very satisfied.
Explained from X-ray need to new knee clearly; came to check ok after operation (grateful elective operation went ahead on due date given COVID); 6 weeks on good result, as shown on before and after X-rays by Mr M; healing well and can walk ok – so far, very happy recovery progress. 3 physio sessions so far helpful.
I had a total hip replacement in late March and am delighted with the result. Mr Magra was extremely kind and explained the procedure fully, and following my review today I feel totally confident going forward.