Knee Arthroscopy
The knee joint is a hinge joint between the top of the shin bone (tibia) and bottom of thigh bone (femur) – these and the two biggest components of the knee joint. There is another joint in the knee in between the kneecap (patella) and the thigh bone (femur). This is known as the patello-femoral joint.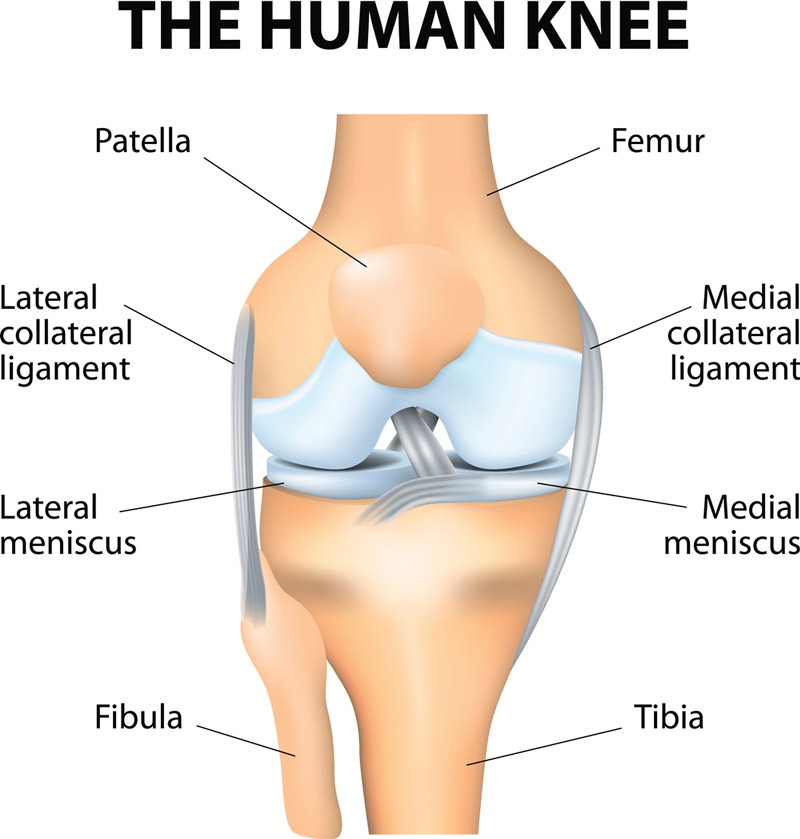 There are two main types of cartilage in the knee:
1) Articular cartilage – This is the hard-wearing smooth cartilage that lines the bones of the joints to enable free movement with minimal friction. Depending on the amount and severity of damage it might be possible to deal with the issue with knee arthroscopy initially. If the damage to this cartilage is significant, it implies that you have severe osteoarthritis (kindly refer to the section on knee osteoarthritis and total knee replacement).
2) Meniscus – This is a specialised type of shock absorbing cartilage that is located towards the periphery of the knee joint.
The meniscus could be damaged or torn because of trauma to the knee from twisting, falling, jumping, being tackled etc. It may also be damaged during normal wear and tear as part of the aging process.
Once all non-operative treatment options have been exhausted and based on the type, location and severity of damage to either the articular cartilage or meniscus you might benefit from keyhole surgery – knee arthroscopy. This might involve any of the following procedures:
Meniscal repair – repair of meniscus
Partial meniscectomy – excision of parts of meniscus that cannot be repaired
Removal of loose bodies
Chondroplasty – smoothening of damaged articular cartilage
Microfracture – cartilage regeneration procedure
These are a largely successful and safe operations that are routinely performed as day case operations in patients with knee cartilage or soft tissue problems. Knee arthroscopy has lower risk of complications than traditional surgery and usually results in less pain, a shorter hospital stay and a quicker recovery.
The benefits of having knee arthroscopic surgery are:
Reduced pain
Reduced mechanical symptoms (locking, catching, giving way) in the knee
Increased mobility
Improved quality of life
If you think you may benefit from knee arthroscopy, please don't hesitate to Enquire Now so that we can arrange a consultation.
Highly Experienced
I am an experienced Consultant Orthopaedic Surgeon with 23 years of experience working as an NHS doctor and as a consultant since 2018.
Qualified Surgeon
I attained my higher surgical training in Trauma and Orthopaedic Surgery and have also done two prestigious fellowships in lower limb arthroplasty.
Hi-Tech Equipment
All my operations are carried out at first class facilities with hi-tech equipment so you can rest assured you are receiving the highest quality treatment.
Ongoing Patient Care
All my patients receive the best care possible, including consultations with myself before and after the operation and care from our healthcare team on the day.
I am 7 weeks and 6 days post op, for a complicated left hip replacement. Essentially I had no socket for my left hip. Mr Magra virtually reconstructed my whole upper leg. The chronic pain beforehand meant I was unable to walk much more than 100m without intense pain. Post op I have completed in excess of 2 miles with 2 crutches and 1 mile with a single crutch and I am now starting tingling confidence to lose the crutches altogether. I honestly cannot tell you how much of a difference Mr Magra and his team have made to my life.
I consider myself very fortunate to have been under the care of Mr Magra for two knee replacement operations. Recovery from my recent left knee replacement operation on 29th November 2022 has been amazing. Within a couple of weeks I was comfortably managing to walk unaided. Seven weeks later and I can walk for some distance without any pain. The level of care and expertise I experienced was exceptional. Mr Magra and following support from staff ensured I gained a positive and speedy recovery.
I can't speak highly enough of Mr Magra's skill. I'm in mid-recovery (7 weeks) after total hip replacement following severe osteoarthritis, and despite my age (82!) I'm absolutely delighted. Mr Magra is a charming and empathetic surgeon, who treats his patients with the utmost care and professionalism. I'm particularly impressed with his use of very accurate X-rays to pre-plan his operations, which has certainly paid off in my case. After nearly two years of pain, eventually almost unable to climb or descend stairs, I'm rediscovering the delights of walking freely, easily and with pleasure. Heartfelt thanks!
I have been in the care of Mr Magra now for a year and he has been amazing. I've had 2 hip replacements – one in April and the other in November – the first was great the second more complicated but throughout Mr Magra has been very informative and caring. He's never in a rush and answers all your questions to put you at ease. I am looking forward to returning to my active life now I am pain-free and mobile due to his skill. I only accept the best which is why I chose Mr Magra as he is excellent and would highly recommend him.